Course details
2H All you can drink 【All popular MENU ♪ All ♪】 All 11 items ◆ "Rare site & popular tuna courses course" 4500 yen (tax excluded)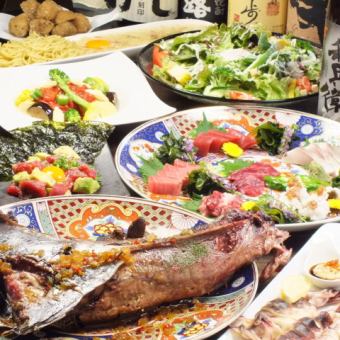 By using a coupon4500 yen
Price without tax / All you can drink / for 4 people ~
All-you-can-drink available

All-you-can-drink on 2-hour system is available! (LO.120 minutes).It is possible to extend it to 2.5 hours by using coupon! (LO 150 minutes).
Reservation deadline

2 days before the desired store date until 23 o'clock
Available days for reservation

Monday - Saturday, Sunday and public holidays - Holidays
Course with 2 kinds of rare tuna seeds, kamaki and popular tuna dishes ♪ Seats' time is plenty 3 hours at any time!
Course menu
◆ withdrawal
◆ Today's Tuna rare site two blooms
◆ Made four varieties
◆ Yukke with tuna and avocado
◆ Warm ball Caesar salad
Deep-fried taro
◆ In a whimsical source of casual winding store manager
◆ Overnight dried squid
◆ Grilled tuna fish
◆ Baked Bonara (yakisoba's Carbonara style)
◆ Ice
(There are cases where rare parts are not due to weather etc.)
In that case, I will change it to other make-up.please note that.)
(All-you-can-drink hours 120 minutes)
There is a drink restriction (glass replacement system)
All-you-can-drink menu
·beer
· Bottled beer · non alcoholic beer
· Shochu
· Potato · wheat (rock · water split · hot water split)
·Sake
· Room temperature · 燗
- A glass of wine
·Red and white
· Black Nikka Highball
·Plum wine
· Rock · Water · Soda · Hot water split
Sour various
· Lemon · Lime · Yuzu · Grapefruit · Shikuwasa · Blue apple · Calpis · Giant Peap · Peach · Cassis
· 17 cocktails
· Cassis soda · cassis orange · cassis grapefruit · lycheesada · lychee orange · lychee grapefruit · kalua milk · gin ricky · moscommool · screwdriver · peach fizz · fuzzy guest · peach oolong · kitty · carimoco · keel · operator
· 5 non-alcoholic cocktails
· Cassis soda · cassis orange · cassis grapefruit · fuzzy guest · peach oolong
·Soft drink
· Cola · Gingera · Calpis · Oolong · 100% Orange · 100% Grapefruit
2018/10/24 update